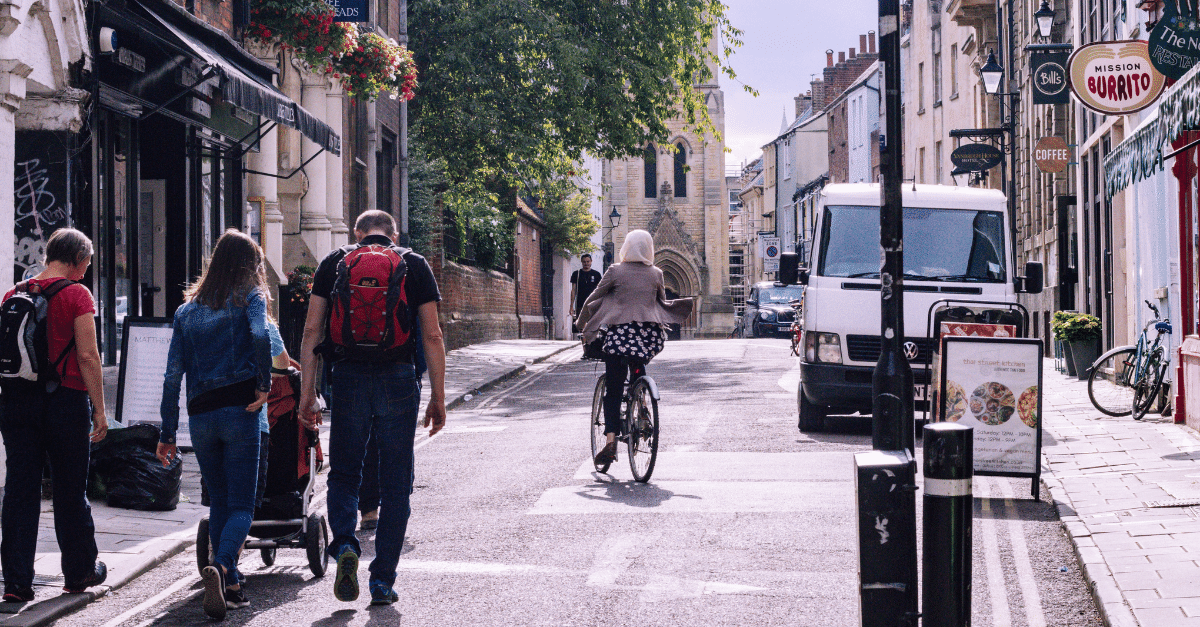 Oxford City Council welcomes the Government's Ten Point Plan for a Green Industrial Revolution for 250,000 jobs, which was published yesterday.
Oxford City Council welcomes the Government's Ten Point Plan for a Green Industrial Revolution for 250,000 jobs, which was published yesterday.
The report covers clean energy, transport, nature and innovative technologies, and aims to address how the country will eradicate its contribution to climate change by 2050, particularly in the run up to the COP26 climate summit in Glasgow next year.
The plan – which is part of the PM's mission to level up across the country – will mobilise £12 billion of government investment to create and support up to 250,000 highly-skilled green jobs in the UK, and spur over three times as much private sector investment by 2030.
Oxford City Council response
In January 2019, the City Council declared a climate emergency, and in Autumn 2019 was the first UK city to hold a Citizens' Assembly on Climate Change which explored how the city should move towards net zero ahead of 2050. In December 2019 the council welcomed the findings of the Citizens' Assembly and set out an interim programme of 53 responses to the recommendations.
Following its Citizens Assembly last year, the Council has agreed that it will develop carbon budgets for the city, which will be measured at five-yearly intervals, as it moves towards net zero. The target, will be proposed in the upcoming Zero Carbon Oxford Plan.
The Government's report addresses several areas for action which the Council is already taking action on, including electric vehicles, transport, buildings, and nature.
The Council welcomes the Government's plans for offshore wind, hydrogen production, Jet Zero, and carbon capturing.
Oxford has been taking a leading role in a number of areas, and particularly welcomes development in key areas:
Electric vehicles
The Government's report highlights the need to back car manufacturing bases to accelerate the transition to electric vehicles, and transforming our national infrastructure to better support electric vehicles.
The report also highlights how the Government will end the sale of new petrol and diesel cars and vans by 2030, ten years earlier than planned.
The Oxford Charter for Cleaner Air, launched by the City Council, Greenpeace UK, and Friends of the Earth, called on the Government in 2018, called on Government to "end the sale of all new petrol and diesel cars and vans earlier than 2040" and "revise the tax regime and provide fiscal incentives to help people and businesses adopt cleaner vehicles".
Additionally, the Council leads the way on numerous electric vehicle projects, including £2.3m to upgrade buses to be ultra-low emission or fully electric; £800,000 to install electric vehicle charging points for residents with on-street parking; a further £474,000 to introduce the world's first pop-up electric vehicle charging points and £500,000 to install charging points for taxi owners and operators.
Other significant projects include the £41m Energy Superhub Oxford project, which will trial the world's largest hybrid battery system which will balance the grid by enabling greater use of clean, renewable energy sources, and will predict overall demand on the private wire network to support the management of future fleet charging.
The City Council has also co-hosted two annual Electric Vehicle summits in the city. In addition, the production of the Electric MINI in the Cowley plant further highlights Oxford as a leading the way for electric transport.
Public transport, cycling, and walking
In Oxford, the City Council has been working with partners Oxfordshire County Council on proposals for Oxford's Zero Emission Zone to restrict polluting vehicles and Connecting Oxford to reduce private car use, with investment in electric charging infrastructure, electrification of our own fleet, support for local businesses, and support for investment in electric taxis and buses across the city.
Additionally, the council has been investing in cycling, by installing more cycle racks across the city.
Homes and public buildings
The report highlights the need to make homes, schools and hospitals greener, warmer and more energy-efficient, whilst creating 50,000 jobs by 2030. The report also includes a target to install 600,000 heat pumps every year by 2028.
In Oxford, 81% of the total greenhouse gas emissions comes from buildings, with residential buildings as the largest contributor to emissions at 29% of Oxford's total emissions.
The City Council is moving towards a zero-carbon building system across eight areas – Council buildings, Council housing, new homes, community buildings, commercial buildings, private rented sector, planning standards, and building standards. Earlier this year, the Council started work on Oxford's first zero carbon homes.
In addition, the £41m Energy Superhub Oxford project will see the installation of innovative, small 'shoebox' ground source heat pumps for residential properties, which will include smart controls and a time of use tariff to optimise heat production for cost and carbon savings. The heat pumps will be installed in 60 properties in Blackbird Leys, and the project aims to roll out this technology to 300 properties in and around Oxford over the next two years.
The Council's adopted Local Plan 2036 also includes an ambitious carbon reduction policy that requires new developments in Oxford to go 40% further than the national government targets on carbon emissions. This will rise to 50% after 2026 and, in the case of new residential development, zero carbon from March 2030.
Nature
The report highlights the need to protect and restore our natural environment, planting 30,000 hectares of trees every year, whilst creating and retaining thousands of jobs.
Current work in this area by the Council includes its biodiversity strategy, the waterways project, and its green spaces strategy.
Other work includes supporting the potential formation of a countywide Local Nature Partnership, applying a Natural Resource Management approach to decision making, engaging with local voluntary action groups involved with nature conservation and biodiversity programmes, and linking work around biodiversity to locally based offsetting schemes.
Councillor Tom Hayes,  Deputy Leader and Cabinet Member for Green Transport and Zero Carbon Oxford said:

"It is promising to see the Government taking action toward the legal 2050 target, however we need to see a bigger investment if we want to see significant, further change. The Government needs to work with local councils who have the knowledge and resources to help make a difference within their community. We need to include the views of residents, local councils, businesses, and scientific experts in order to make a real difference.

"Here in Oxford we are helping to develop green jobs for the future thanks to our Energy Superhub Oxford project, the work at our Cowley MINI plant to roll out the MINI Electric, as well as the numerous scientific experts and research at our two universities. As the Government goes ahead with its Green Industrial Revolution plan, we hope Oxford will become home to even more green jobs."