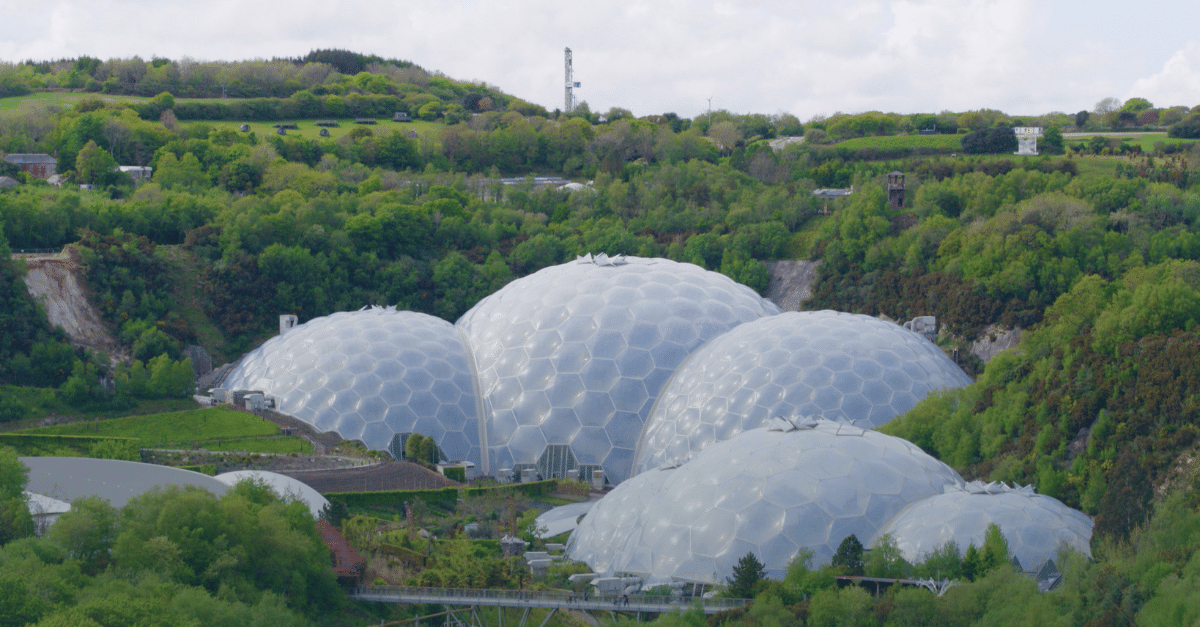 The call to arms comes after our new report highlights the work councils across the UK have carried out to help achieve Net Zero.
Leaders have brought in specially trained staff, supported local businesses with green grants and implemented new agri-food initiatives to help the UK become more sustainable, our Landscape of Leadership report states.
More energy efficient transport, low energy houses and offices, along with using land and rural spaces for renewable energy, are among the proposed changes to help areas become greener. 
The report comes ahead of world leaders including Prime Minister Boris Johnson and President Joe Biden, meeting face-to-face for the first time in over a year at the G7 summit in Cornwall this weekend.
Cornwall Council - where the summit will be held - is one of most influential authorities in the UK committed to reaching Net Zero - and has made changes to ensure 40% of the county's electricity demand is now renewable energy.
It has also spent £17m on making transport greener and is planning to create more than 300 new electric vehicle charging points across the county - by the end of next year (2022).
Not only that but it is one of the first councils in the UK to use smart technology to create paperless travel on buses and public transport - and instigated the first deep geothermal energy plant, and developed Cornish Lithium, an enterprise that will be crucial for electric battery development.
Alongside other rural councils including Wiltshire, South Lakeland, Cambridgeshire and more than 20 others it joined the Countryside Climate Network (CCN) last year.
The CCN is made up of ambitious local leaders from predominantly rural councils who are members of UK100, and are committed to delivering climate action in their communities.
The network now has  27 rural authority members -  representing more than 45% of England's land area – and leaders are calling on more councils to join the bid for change.
According to a report commissioned earlier this year by campaign group UK100 - Rural Net Zero - not enough national government funding is being given for rural areas to implement climate change - holding back many rural authorities.
Data shows that although rural areas are well placed to deliver Net Zero – they have received less funding and attention from the government in comparison to urban cities.
UK100 is the campaign group at the heart of the CCN and is the only network for UK locally elected leaders who have pledged to play their part in the global effort to avoid the worst impacts of climate change by switching to 100% clean energy by 2050.
It brings together local authorities, from cities to the countryside, to share knowledge, collaborate, and petition the UK government with their collective power.
The report highlighted that current national government policies are biased towards helping urban areas and large cities, rather than rural postcodes.
It also states that rural local authorities need to be at the "forefront of the national action to deliver Net Zero" and will need to provide a number of resources to bring the change.
Other key points to help the UK achieve Net Zero include that downfalls of rural areas include those in sparsely populated regions are more likely to have to travel for work - but are more inclined to travel using their own cars rather than public transport because services aren't good enough.
Since the launch of the CCN - action has been building on previous efforts across the country in some of its most ambitious members.
In the south, Cornwall Council has been at the forefront of tackling climate change, prioritising transport links, and were the first rural county in the UK to use smart ticketing on buses and public transport. 
It has also invested in creating a smart wind turbine - which creates enough energy for more than 1,400 homes and can help reduce greenhouse gas emissions by more than 3,300 tonnes a year over the next 20 years.
Wiltshire Council has focussed on making building more energy efficient, and has invested £5m in the scheme, which included installing renewable energy generation in them. 
This will include solar panels being installed on 19 council building, which will cut emissions of 1,200 tonnes of carbon each year.
It has also secured £4.6m of government funding to retrofit difficult buildings to heat – installing solar panels on local facilities to power them.
Other improvements in the south west include £671,000 is set to be spent on improving existing bus services or bringing back discontinued services. 
Elsewhere, South Lakeland District Council has pushed for investment in transport and creating a greener travel network. It has installed electric vehicle charging points, facilitating bike hire schemes, reviewing licensing and permits and campaigning for Cumbria County Council to improve walking and cycling routes across the District.
While South Gloucestershire has appointed an Energy Officer to enforce energy requirements in developers and high-tech Lancaster City Council has developed a CO2 dashboard to inform decision making.
Overall the CCN has a vision for climate change within UK councils, and has outlined a number of ways to implement it – which include: 
A thriving Net Zero economy: Significant growth in jobs at all levels in the renewable energy and natural resources sectors: nature conservation, woodland, peatland, wetland management.
Better transport and connectivity: easy access to jobs and services locally or easily online through flexible, low carbon transport options such as demand-responsive public transport, electric vehicles (EVs), safe, dedicated active travel routes and high quality internet and phone services.
Efficient and Net Zero buildings: reduced energy demand and buildings optimised for local renewable energy generation with innovative solutions which are sensitive to the variety of building types in rural areas.
More renewable energy: high contribution to large- and small-scale renewable electricity provision: wind, solar, hydro, sustainable bio-energy and renewable heat options, supported by a robust, fit for purpose national energy grid and local microgrids.
Land use solutions: more land utilised for renewable energy, and for woodland, hedges, peatland and wetland restoration, sequestering carbon emissions, as well as boosting biodiversity, health and well-being.
Net Zero agriculture: increased agricultural productivity from diverse, efficient farms with much lower emissions which are adapting to provide for our changing national diet.
On how the CCN members are taking action the report states: 
"A number of in-depth case studies have been prepared detailing the action taken by some of the most ambitious CCN members, reflecting the breadth, geography, administrative and political diversity of the Network. 
"All CCN members have pledged to transition to 100% renewable energy across their operations, with 17 leaders already committing to UK100's Net Zero pledge to reach Net Zero council emissions by 2030 and Net Zero community emissions by 2045 (or 2050 or sooner for county councils). 
"These targets give a mandate to take the actions needed.  It is also important to allocate clear responsibility for delivering the commitment by establishing a cabinet portfolio, and a relevant committee or working group to plan and monitor progress."
On plans to implement Net Zero the report states: 
"It is important to systematically integrate action for Net Zero across all council departments, activities and relevant spheres of influence. Local Authorities have many opportunities: for example ensuring that their Local Development Plans align with their Net Zero goals and relevant supporting policies are in place.   
On how councils are encouraged to collaborate to create Net Zero the report states: 
"Working with delivery partners and communities is critical to both securing a commitment to Net Zero and delivering the action needed to make progress towards it. Community consultation can shape local plans to make sure they will deliver on multiple local needs. Collaborating with Local Enterprise Partnerships, the Health sector, other strategic partners, nearby local authorities and across District and County level are all critical."
On Net Zero opportunities the report states: 
"With consistent, long-term policy commitments and powers to put in place the investments needed in reskilling and business transformation, rural local authorities can accelerate the economic transformation to deliver Net Zero and ensure their communities get a fair chance to benefit from the opportunities of the Green Industrial Revolution.
"We invite rural local authorities to join UK100 and commit to the Net Zero pledge.  
"We welcome new members to the CCN who have ambitious plans for reaching Net Zero and are keen to contribute to the collective voice of rural local authorities as critical partners on the path to Net Zero."
Polly Billington, Chief Executive UK100, said: "We set up Countryside Climate Network with rural members of the UK100 Network to make sure voices from rural local authorities from across the political spectrum are represented in critical policy discussions and decisions about delivering UK Net Zero.
"They are critical to delivering Net Zero and must be part of the conversation if we are to create workable solutions."
Cllr Richard Clewer, Leader of Wiltshire Council and Chair of the Countryside Climate Network said: "Rural areas have different strengths and face different challenges to urban areas. The CCN helps by sharing ideas across different rural areas which are making progress on different issues.
"And it is absolutely vital in providing a clear voice to Government to highlight our unique challenges and opportunities on the pathway to Net Zero."
Cllr Martyn Alvey, Cabinet Member for Environment and Climate Change at Cornwall Council said: "Cornwall appreciates the importance of our people, natural places and the planet. Our vision for Cornwall in 2030 is a place where our people and planet can thrive.
"Rural Local Authorities, like Cornwall, are critical to the UK reaching Net Zero and the UK100 Countryside Climate Network amplifies the rural voice in taking action and implementing solutions.
"And it unites us in our shared ambition in transitioning to Net Zero to kick-start a post-Covid green recovery, driving innovation and environmental growth.
"We are committed to putting the environment at the heart of all of our decision making, enabling new green sectors to flourish and accelerating our transition to Net Zero.
"We are placing the climate and ecological emergencies on an equal footing with strengthening Cornwall's environmental resilience and adaptation.
"Innovative Cornish businesses are already pioneering sustainable growth and a low carbon economy, with many of them leading the way for the UK and globally."
Cllr Lucy Nethsingha, Cambridgeshire County Council Leader, said: "I'm really pleased to be part of the UK100's Countryside Climate Network (CCN) Leaders Webinar to talk about my vision and priorities.
"In Cambridgeshire, we are clear we must act faster to tackle the climate emergency and we will be working to more challenging targets for a net zero carbon council by 2030."
"I'm looking forward to working with UK100 CCN to tackle climate change, deliver climate action in communities and amplify the rural voice as part of the national policy advocacy – bringing the best from cities and the countryside together."
Liz McKeon, from the IKEA Foundation, said: "Rural communities in the UK are already feeling the impacts of climate change.
"As the G7 leaders meet in Cornwall, we're supporting the Countryside Climate Network's campaign to unite rural local authorities behind collective action and ensure the voices of their residents are heard."