May 5 is an opportunity to elect local councillors who understand the scale of action we need to accelerate Net Zero, help residents with their energy bills and avert climate disaster.
The recent United Nations Intergovernmental Plan on Climate Change (IPCC) report was unequivocal in its warning: it is "now or never" if we are to prevent catastrophic climate breakdown. We must ensure global greenhouse gas emissions peak within the next three years, then reduce by 43% by 2030. 
In response to this report, UN Secretary-General António Guterres wrote, "I hereby appeal directly to everyone with an interest in our planet and our future: Make your voice heard, wherever decisions are taken — in political debates, local authorities, boardrooms and at the ballot box." 
Across the UK, we now have the chance to make our voices heard this May 5 when electing our local councillors. We must elect individuals who understand the crucial role local authorities must play.
The importance of local authorities in achieving our net-zero targets is often overlooked in the UK. The National Audit Office has said that the UK government is yet to fully consider and define the role local authorities must play in meeting our targets.
This is despite the government's own Net Zero Strategy admitting that 82% of all UK emissions are "within the scope of influence of local authorities". Although directly responsible for only two to five per cent of local emissions, local authorities have levers of influence that extend far beyond this. From their immediate control over council-owned buildings and local transport networks, to their wider influence through sustainable procurement practices, planning policy and local engagement with businesses and residents, councils hold a uniquely important position in the transition.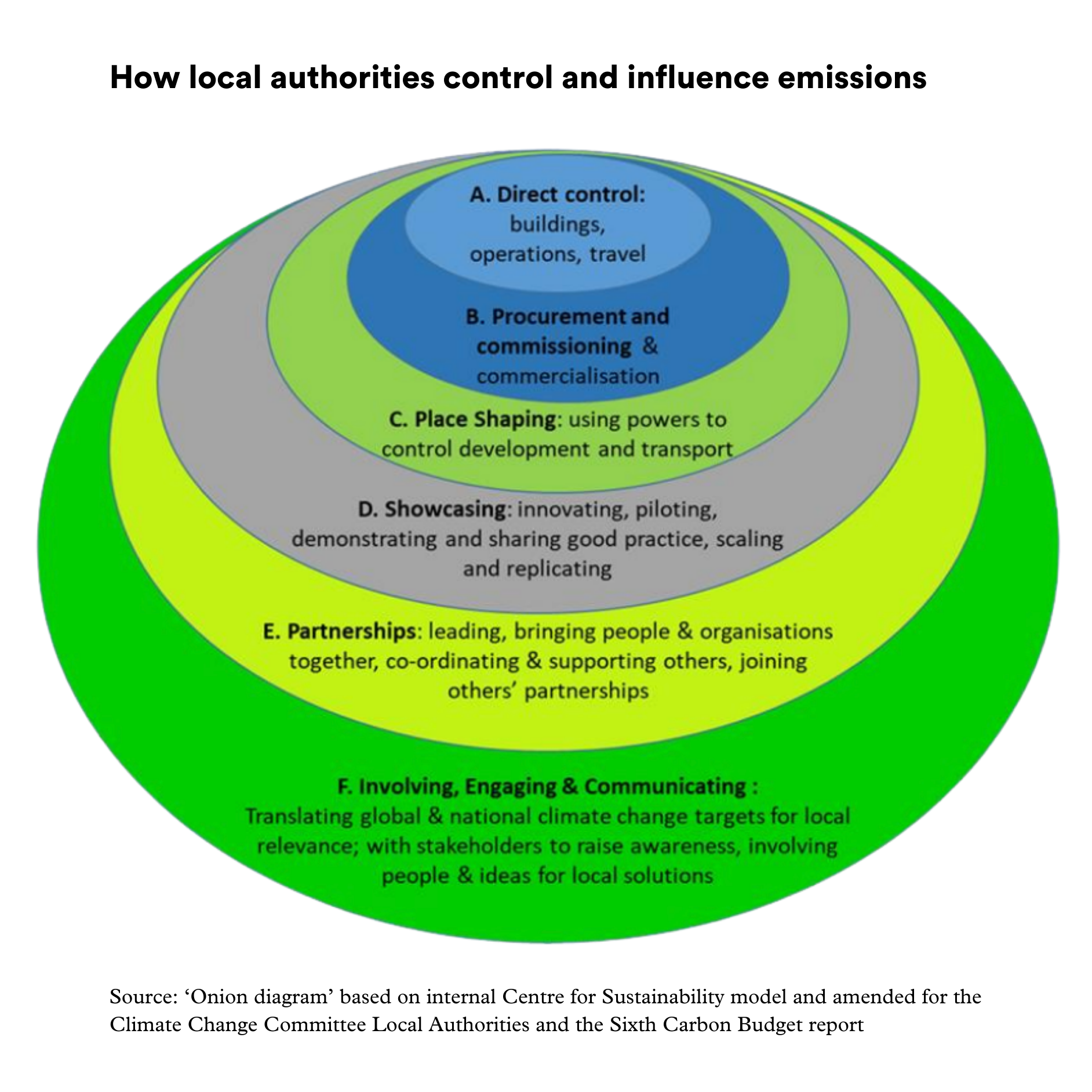 Despite this crucial role, the government has not yet given local authorities the powers, support or funding they need to meet this challenge. The funding situation is particularly concerning. A decade of austerity cuts to council budgets has been exacerbated by the COVID-19 pandemic, thus significantly weakening councils' ability to spend on net-zero policies.
Even with this lack of support, over 70% of councils have now declared climate emergencies. But while some councils have used this as a springboard to show real climate leadership and innovation, others have elected councillors that make headline commitments without the underlying substance to support them. More than one-third of these councils even still support policies that could increase emissions. 
This is why having local leaders who are serious about climate action is so important. Long-term targets are one thing, but rhetoric can quickly become greenwash when not supported by tangible policies.
When elected councillors are serious about climate action, and provide the mandate to act, councils are unparalleled in their ability to introduce innovative solutions and ensure they bring the local community with them. Through climate citizens' assemblies and new green finance solutions, such as Local Climate Bonds that help close the funding gap while also increasing local resident engagement, pioneering councils are working closely with communities on climate action.
But we must aspire to go further still. We must elect councillors that wish to embed climate action into every major council decision.
Some are beginning to do this. From Cornwall's council decision wheel, inspired by Kate Raworth's Doughnut Economics, to Hammersmith and Fulham's climate implications toolkit, councils are finding ways to ensure climate impacts of decisions are always considered. Combining this with increased accountability and transparency, with dedicated cabinet members responsible for climate action and reporting publicly on progress against targets, is what ambitious local climate action truly looks like.
The May 5 local elections are crucial. With elections in 200 local authorities, we need to elect councillors who truly understand the issues and opportunities in front of us. The actions these elected councillors take must ensure that the next decade of climate delivery is a success. It is "now or never", after all.
Local authorities are the key to achieving the UK's net-zero ambitions. But we can only unlock this potential and address the climate crisis if we elect leaders who understand the scale of this challenge and are willing to work with local communities to pull all available levers of influence. This must be supported by increased powers and funding from government, further clarity on their roles, and access to new forms of green finance. These factors will play a critical role in determining whether or not the UK successfully reaches its net-zero goals. Make sure your voice is heard at the ballot box this May