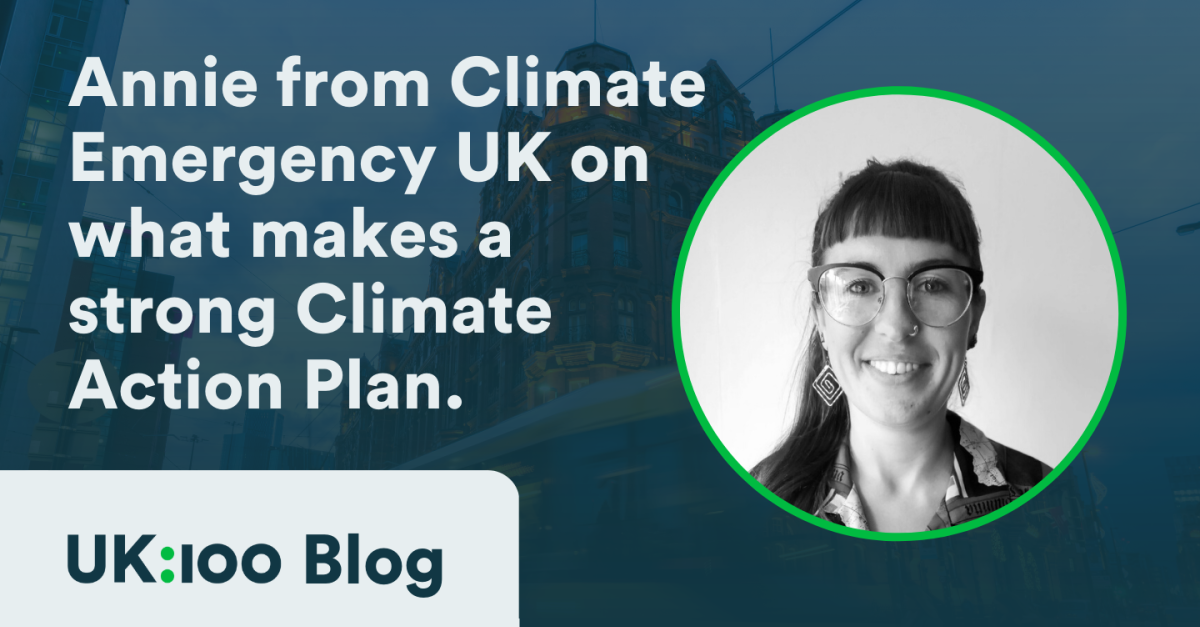 Since 2019 the majority of UK local authorities have declared a Climate Emergency, and 327 have produced a climate action plan of how they plan to reach Net Zero by their own target date (if they have one) of 2030, 2040 or 2050. These plans vary in length, design, topics covered and ambition. So how can you tell which council has a good climate action plan, a plan that the council is actually able to implement, and that the subsequent actions will mean that the council reaches Net Zero before 2050? Annie Pickering, Co-Director of Climate Emergency UK, writes for UK100's blog on climate action plans.
Since 2019 the majority of UK local authorities have declared a Climate Emergency, and 327 have produced a climate action plan of how they plan to reach Net Zero by their own target date (if they have one) of 2030, 2040 or 2050. These plans vary in length, design, topics covered and ambition. So how can you tell which council has a good climate action plan, a plan that the council is actually able to implement, and that the subsequent actions will mean that the council reaches Net Zero before 2050? This was the problem the Council Climate Plan Scorecards aimed to solve. 
Moreover, in 2019 the UK Climate Change Committee stated that up to a third of local emissions are within the scope and influence of local authorities, whilst the UK Parliament also declared a Climate Emergency in May 2019 after the groundswell of local councils doing so. Despite this, there has been little or no national framework to support local councils on how to decarbonise. Therefore, the Council Climate Plan Scorecards were needed even more so in order to help councils and other key stakeholders understand what is a good climate action plan and provide this needed framework for councils on what they can do to improve their climate action. Without the appropriate national frameworks, and with council funding being slashed year on year by the national government, peer-learning and support is essential, and economical, for effective climate action from councils. 
"More than half of the emissions cuts needed rely on people and businesses taking up low-carbon solutions – decisions that are made at a local and individual level. Many of these decisions depend on having supporting infrastructure and systems in place. Local authorities have powers or influence over roughly a third of emissions in their local areas." - from the Climate Change Committee's Local Authorities and the Sixth Carbon Budget Report.
The Council Climate Plan Scorecards are the first ever assessment of the strength of written climate action plans from all UK councils. They cover 9 sections, with a total of 28 questions for every UK council, of which there were 409 when the Scorecards marking was conducted in 2021. The questions were based on the Climate Action Plan Checklist, written by Climate Emergency UK with the support of Friends of the Earth, Ashden, the Centre for Alternative Technology and APSE Energy. Climate action plans were marked by trained volunteers from only publicly available information. All councils were then able to comment on their first mark via the 'Right of Reply' stage and then an audit was conducted to give councils their final score. The results were published in January 2022, with extensive national and local media coverage.
By compiling these Scorecards in a standardised format, councils and their residents are able to understand the quality of each council's climate action plan and more easily compare to and learn from one another. Councils are complex organisations, with differences in their size, powers, structures and local history across the UK. Without these Scorecards it is hard to find, understand or even analyse councils' climate action. As democratic institutions, it is vital that residents are able to easily understand councils climate action. These Scorecards are not only a tool for councils themselves to review, compare and improve their climate action. They are also a campaigning tool that residents can use to examine their councils' climate action and hold them to account on their inaction or slow progress towards their, or national government's, Net Zero target. 
What do the Scorecards show?
The picture is varied, although overall the average score for most councils on their climate action plans was around 50%. The average score for Scottish and English councils was 46%, dropping to 31% for Wales and 25% for Northern Ireland. Within that, there is a wide variety of scores across all council types. In England, the highest scoring County Council was only 63% compared to 19 District Councils that scored between 63% and 92%. But not all councils have climate action plans. Eighty-four of the UK's 409 local authorities have no publicly available published plan at the time of marking.
Of those that scored highly, this cut across the political divide. Somerset West and Taunton District Council (Liberal Democrat) scored 91%, Manchester City Council (Labour) scored 87% and Solihull Metropolitan Borough Council (Conservative) scored 85%. Four out of the top 5 District Councils are coalition or minority-run councils: East Devon (Democratic Alliance and Independent Progressive Coalition), Staffordshire Moorlands (Conservative minority), Stroud (a cooperative alliance of the Labour, Green and Liberal Democrat parties) and Waverley (Farnham Residents and Liberal Democrats Coalition). This shows that climate action is a cross-party issue and a priority at the local level.
Further comparison tools are available on the Scorecard website, which enable users to compare specific councils, look at which councils scored well for particular questions or sections, or view which councils scored best by tier of local government. In looking at specific questions, such as on target dates, only 86 councils have an area-wide Net Zero target of 2030 or earlier, and 33% of councils had not set a Net Zero target of 2050 or earlier, at the time of the Scorecards publication. 
What can councils do to improve their climate action?
While we recognise that some councils have chosen to put their limited resources into taking action rather than writing plans, a strong plan helps. A strong plan will help a council follow a sustained and effective programme of climate action that can survive changes in leadership and political administration. A plan also ensures that climate action remains a priority among the many other crises councils will no doubt face between now and their Net Zero target date. As the saying goes, 'fail to prepare, prepare to fail'.
The good news is there are lots of easy ways for councils to improve their plans and make them more accessible to local residents. We've put together a list of 10 quick wins councils can prioritise to help immediately improve their climate action plan. These 10 actions include some of the basics, such as making sure your climate action plan is easily found from your councils website homepage and it is easy to read as well as ensuring your climate action plan is well managed, with SMART targets and a named staff member or team monitoring the plan's implementation so the plan can be actioned, rather than simply aspirational. Actions also include the importance of working with others: councils, residents, local businesses and other stakeholders so you can share knowledge, resources and collectively take climate action locally. 
How else does Climate Emergency UK support councils deliver climate action?
In 2022, Climate Emergency UK collaborated with UK100 as part of the Climate Leadership Academy to provide guidance and training to participants of the course - 20 local councillors in leadership positions from across the country and political spectrum. UK100 utilised the Scorecard site to highlight areas for improvement through compiling a list of outstanding actions for each participant which could enable progress towards Net Zero in their local authority. Climate Emergency UK then delivered a workshop to explore the score cards in more detail and share the key steps to developing a robust climate action plan. During the session, participants were able to directly compare and contrast scores with their colleagues, have conversations to understand how and why one council may be leading in a particular area, learn from one another, and share ideas on how to improve and progress. This is one tangible example of how the Scorecards can be used in practice to accelerate progress towards Net Zero across the country.   
Christopher Hammond, Membership & Insights Director at UK100 commented "No one had attempted to score and compare the huge number of climate action plans in the Local Government Sector until Climate Emergency UK did it. This analysis was a helpful jumping-off point for our participants to see where their plans may fall short, any quick wins they could plug and where they could maximise the opportunities for Net Zero in a fair and just way. Working with our political coaches, we could take a vast body of work and distil it down into some focused action that would lead to impactful changes in their areas."
One participant of the session at the Climate Leadership Academy said "It was great to have conversations which gave me lots of ideas for my portfolio and be in the best place to ask other councillors about their experience in these areas".
What next?
We strongly encourage councils to use the Scorecards site in their climate and environmental projects. Before starting a piece of work, councillors and officers can review what other councils have already done on this issue within their climate action plan, and think about how this can be applied in their own local context. 
Climate Emergency UK is now moving on to measuring actual council climate action. In November 2022, we published the draft methodology for our Council Climate Action Scorecards, where we will be quantifying and measuring actual climate action taken by councils, not just their words on paper. As of January 2023, we have started this marking and will publish the Council Climate Action Scorecards results in Autumn 2023. In the meantime, the Action Scorecards methodology can be used by councils to determine what their next climate action steps can be, by providing a framework of best practice. 
Further support available to councils includes our first ever training for climate officers on Embedding Climate in Planning: What local authorities can do on 20th February. The event is designed for climate action officers and planning teams, and will include external speakers from councils with ambitious climate policy within their local plan and those who have just gone through the Planning Inspectorate. Find out more and register here.