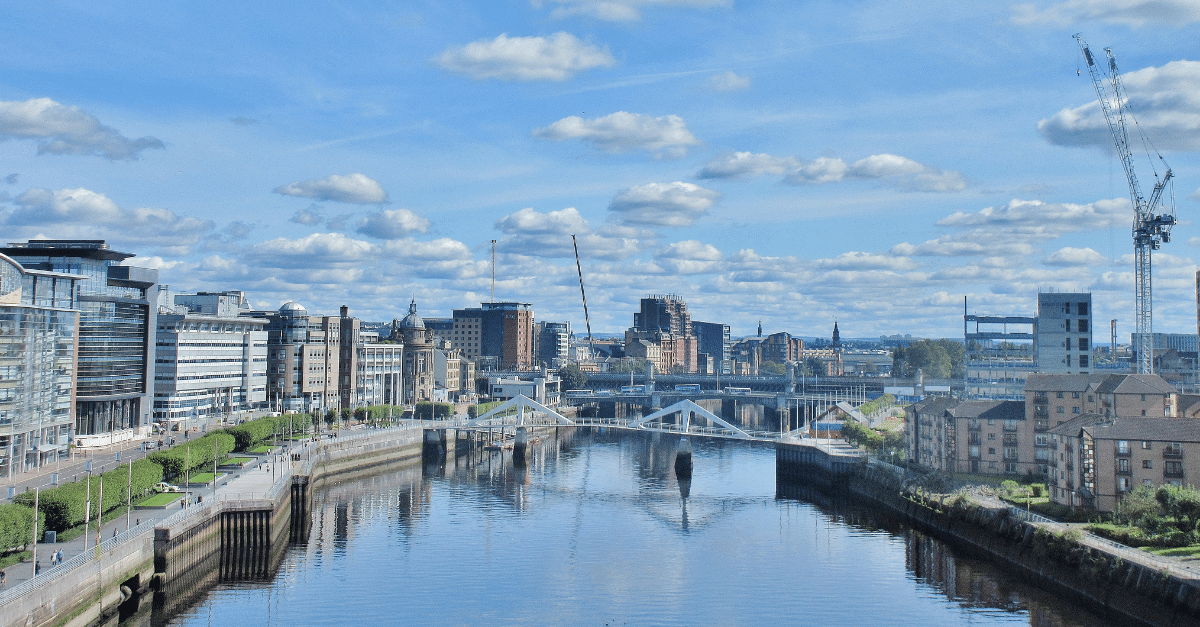 Leader of Glasgow City Council Councillor Susan Aitken tells UK100 why Scotland's biggest city has joined Race To Zero, and what opportunity it holds for local authorities on the road to COP26.
As the momentum builds in the global Race To Zero and as we head towards COP26, there is a line Glasgow has used regularly, becoming something of a mission statement: "Carbon reduction and sustainability really are the issues of our times. Glasgow can show the world we are becoming the city of our times on the issues of our times."
This isn't a statement of ambition. Or, for that matter, a boast of our credentials. Instead, it reflects why Glasgow is an ideal choice as host city for COP. The reason I believe that to be the case is our city's imperfections. Perhaps more than any other urban centre in western Europe, Glasgow has carried the scars of its high carbon past. Those physical and social legacies are something which, 40 years after the demise of our heavy industry, we are confronted with daily. Derelict and contaminated land, congestion, poor planning decisions from previous generations and high levels of social deprivation are the more visible reminders.
As anyone who has visited Glasgow will know, we have made incredible inroads, particularly in the past two decades. But our transition to carbon neutrality by 2030 gives us much more to do. Our remarkable transformation from Europe's preeminent post-industrial city has another, equally dramatic, stage in its journey. So, we have a powerful and compelling story to tell, one which charts the course from that past to the low carbon and sustainable developments of the present. It is a story which is resonating across the world and makes Glasgow the template for so many other cities.
What this past year has also shown us is the willingness of the international family of cities to share and collaborate on critical policy discussions and desire to find common cause on solutions to global climate challenges. There's a unity of purpose emerging which has the potential to be one of the single biggest contributors to the well-being – indeed the survival – of our planet. And what is increasingly crystalised is the absolutely critical role of cities in the race to zero. Perhaps unlike any previous COP, Glasgow will ensure that the voices of cities must be heard.
Race To Zero therefore is an ideal platform to build on – and accelerate – that tangible momentum Glasgow is experiencing in the global conversations COP has given us the privilege of taking centre stage in. It is an opportunity for authorities from throughout the UK to embrace the common cause of addressing and responding to the climate emergency. There is a commonality of past and experience which perhaps we don't always have at an international level and these can and should lend themselves to the sharing of agendas and to collaboration.
Glasgow's story is one which all the titans of the industrial age from across these islands will recognise and can draw from. As Glasgow and our peers put in place the innovative solutions to address those legacies and to build new, decarbonised economies and communities we need to foster a sense of partnership. Future generations will look dimly on us if we allow insularity and narrow agendas, be that at the local, regional, national or international level, to create barriers to climate action.
The privilege and responsibility of hosting COP26 has given Glasgow the opportunity to help lead that global movement committed to a fairer, greener and more just planetary course. Race To Zero allows cities, regions and local authorities to take their place at that table. It provides an opportunity for all of us to show real leadership on the climate emergency and prioritise economic, social and environmental justice. For all our people. Our voices must be heard.
COP provides all of us in the UK with an opportunity to push forward with our own ambitions on carbon neutrality. Amongst the many projects underway here in Glasgow is the acceleration of the redesign of our distinctive Victorian streets and public spaces and the promotion of new, sustainable modes of transport. It is about addressing the contribution to our carbon neutrality by our hundreds of thousands of homes and buildings – very many of which are over a century old.
It's about addressing our high levels of vacant and derelict land and repurposing them for affordable housing or as green spaces, woodland, nature havens and for food growing. And it's about investment in flood prevention measures to not only help protect Glasgow against rising temperatures but also to open up more land for recreational, economic and residential use, while restoring the River Clyde to the heart of city life.
But it's also about social justice, about making COP and carbon neutrality relevant to the lives of our ordinary citizens. I mentioned previously the responsibility of hosting COP.
As Glasgow's profile within international networks increases, our repeated message, 'the Glasgow Message', is that social equity must be an equal consideration. Fairness must be core to our transition and to our recovery from the Covid pandemic. Climate change already threatens to have a disproportionate impact on the young and the poorest communities, factors being exacerbated by Covid.
The young of 2020 face considerable challenges and issues that have not been experienced to the same extent by previous generations – from mental and physical health to difficulties entering the job market and accessing social and cultural opportunities. Climate change has a similarly disproportionate impact on low income groups, those who contribute least to Greenhouse Gas (GHG) emissions, but are least able to prepare, respond and recover from its impacts. I have been explicit in raising the concern about the impact on jobs, which an economy moving away from its dependency on fossil fuels will have. And I have spoken many times of the need to protect workers from the shocks of transition and to maximise opportunities for the future workforce.
This won't happen on its own. It will take planning and engagement with both businesses and trade unions. A transition to a carbon neutral economy must focus on those considered most vulnerable to climate change and create opportunities for the under/unemployed in trades and professions a more sustainable economy will demand.
All of us must recognise that the race to zero – and delivering a green recovery – will need collaboration like never before.
I want to finish by referring to the recent words of the US's very first Presidential Special Envoy For Climate, the former presidential candidate John Kerry. Looking towards COP26 in his first speech in the role he said: "To end this crisis the whole world has to come together. Paris alone is not enough. At the global meeting in Glasgow one year from now all nations must raise ambitions together or we will all fail together. And failure is not an option." But where nation states pledge it is up to us, as cities, as local authorities, to deliver. It is us who will ensure the race to zero is won.
Councillor Susan Aitken, Leader of Glasgow City Council
Race To Zero is a global campaign to rally leadership and support from businesses, cities, regions, investors for a healthy, resilient, zero carbon recovery that prevents future threats, creates decent jobs, and unlocks inclusive, sustainable growth.
The objective is to build momentum around the shift to a decarbonized economy ahead of COP26, where governments must strengthen their contributions to the Paris Agreement. This will send governments a resounding signal that business, cities, regions and investors are united in meeting the Paris goals and creating a more inclusive and resilient economy.