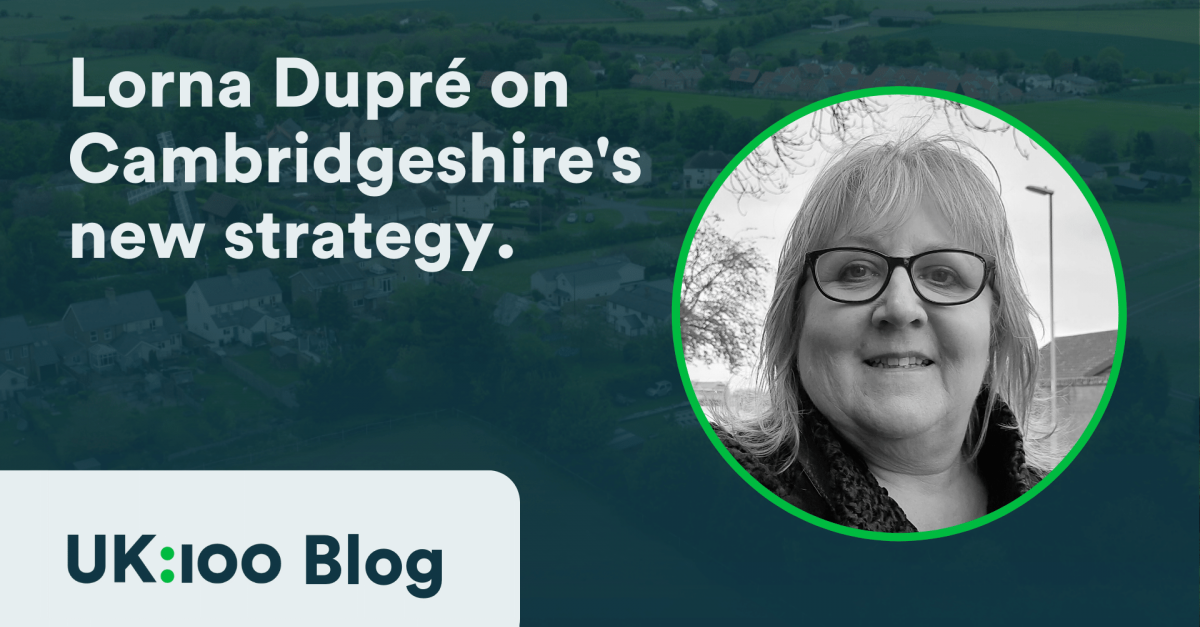 Cllr Lorna Dupré reflects on Cambridgeshire County Council's new Climate Change & Environment Strategy, which commits to reach Net Zero in the Council's own operations by 2030 and across the whole county by 2045.

When we took office in May 2021, the new joint administration of Cambridgeshire County Council committed to put climate change and biodiversity at the heart of the Council's work. 
At our full Council meeting on 8 February this year the Council agreed to adopt an ambitious new Climate Change & Environment Strategy to enable us to do just that. 
Our new Strategy has a new ambition for Cambridgeshire as a county to reach Net Zero emissions by 2045 by mobilising action to attract investment and increase the pace and scale of delivery. 
For the Council itself our target is to reach Net Zero by 2030. This is now a whole Council endeavour—all services will need to build knowledge and skills to deliver carbon emission reductions. 
We are starting from a strong place. In May 2019 the Council committed to the development of a Climate Change and Environment Strategy — and also declared a climate and environment emergency. 
The first Strategy was adopted by the Council in May 2020. It was a crucial first step in raising the profile of the climate and biodiversity crises in Cambridgeshire. It led to the Council being 'highly commended' for climate leadership in 2020, in the first Local Government Chronicle awards to include this category. And the Strategy recently achieved second place in an independent analysis of the strategies adopted by County Councils across the UK. 
But since then there have been significant changes nationally and internationally. The UK Government's commitment to reduce UK greenhouse gas emissions by 78% by 2035 based on a 1990 baseline. The publication by the Government of a Heat & Buildings Strategy, Net Zero Strategy, Environment Act, Agricultural Act, the Transport Decarbonisation Plan. The sixth IPCC Report, published in August last year, describes how critical the next ten years will be in the race against the biggest impacts of climate change. And of course COP26 in Glasgow. 
Our new Joint Administration saw the need to act faster to address the climate emergency, to bring forward targets towards 2030 where they were later than that. We set to work to initiate a review of the Strategy, with the aim of completing it by December 2021, and it was this revised strategy which was adopted by full Council in February. 
The revised Strategy is the product of ongoing dialogue with councillors, officers, district council partners, the mayoral Combined Authority, communities, businesses and the third sector. A series of webinars and meetings helped to share understanding of the issues and integrate our proposed actions with those of our partners, while maintaining our own ambition. 
Cambridgeshire's new Joint Administration has used the Strategy to increase the pace and scale of carbon reductions in Cambridgeshire. This requires organisations, businesses, communities and residents to collaborate and cooperate. Our focus is therefore on being clear with communities and businesses about what is needed and how we are going to do it; providing reliable and trustworthy information; signposting businesses and communities to good practice; working together to deliver the recommendations of the Independent Commission on Climate; achieving change at a lower cost for everyone in Cambridgeshire and ensuring that ownership of the challenge is apparent in every part of the Council. 
COP26 showed for the first time how financial institutions and large organisations are getting behind the transition to a low carbon future, and we are now seeing the impact this can have.
Locally, under the aegis of our 'metro-mayoral' Combined Authority, the Cambridgeshire and Peterborough Independent Commission on Climate has published its final report and recommendations to guide our area to deliver Net Zero.  
The recommendations of this expert panel highlight the urgency of the action needed and the increased severity of climate impacts if this action is delayed. They also recognise the importance of protecting the most vulnerable in society and delivering a just transition to ensure that no-one is left behind as we decarbonise our communities, businesses and homes. There is much to do, and a need to do it urgently. It will cost less if we take action early, and more if we delay.  
Updating the County Council's own Strategy has been an opportunity to reflect these developments, and to move forward faster and with increased ambition — matching the increased enthusiasm from the public sector, businesses and communities to engage in climate action and speed up change. 
The Strategy has been designed to provide a framework within which all Council activities can sit — a structure for officers and councillors to develop activities within services that fit into the wider Net Zero ambition. 
We have also restructured the proposed Strategy to consist of three parts: a high level strategy summarising our ambition and approach, providing the framework to manage the changes we face and intended for the wider public, businesses and partners; a technical report for those who want or need greater detail on targets and priorities to inform their work; and a dynamic action plan which guides the actions needed to deliver the Strategy, and which can be updated in the light of new information and further developments. 
These elements of the Strategy will be supported by additional documents: our Annual Carbon Footprint report, a Communications and Engagement Plan, and a Net Zero & Improving Nature Programme & Resourcing Plan.
More than half of the carbon reductions we need to achieve depend on the choices that communities and businesses make in their everyday lives — heating buildings, travelling for work or leisure, buying food and clothing. The Strategy therefore focuses heavily on the need for the Council and others to engage, support and collaborate widely, inspiring ourselves and others to make positive change.